Meet the girls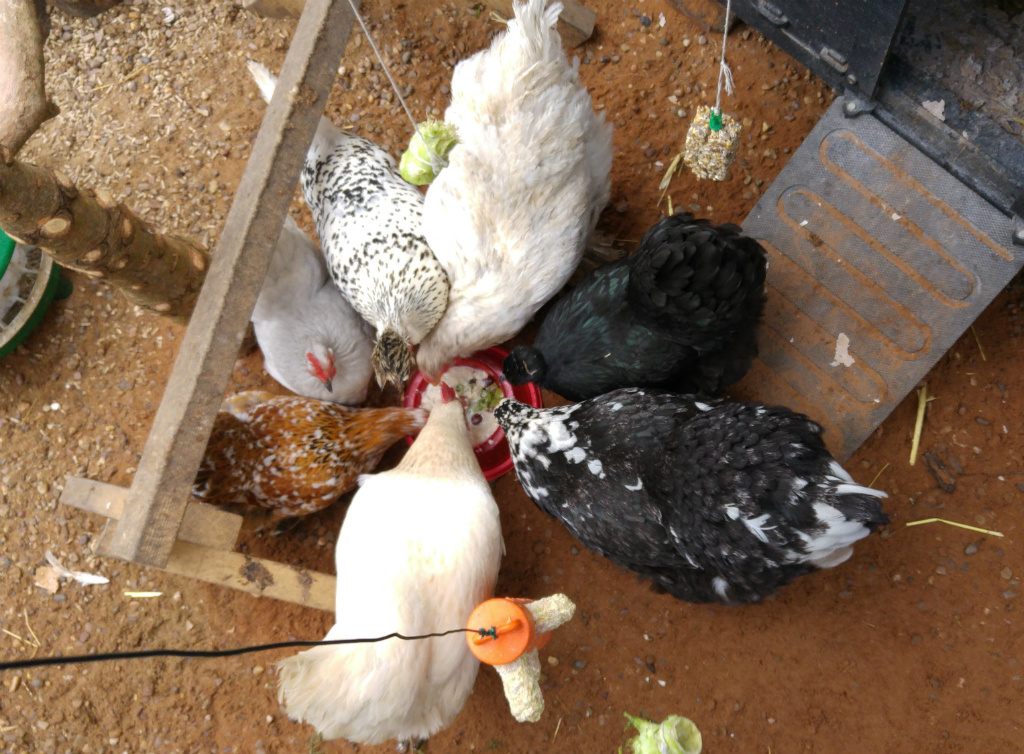 As of May 2016, we have 6 girls in the hencam coop, and we know it can sometimes be a bit difficult putting names to faces so I've put together this page to help you work out who's who.
Eggs!
Here's what the hens lay:

Ariel (White Star)
Ariel is the only hybrid hen we have - all the others are pure breed chickens. This means she was bred to lay eggs and be as productive as possible (which might also mean she's more resistent to disease etc).

She's amazingly friendly - if you are digging or hammering fences in the coop, she'll have her body or head exactly where you are working and seems to have no sense of danger - she wants to 'help' so much!

Has normal feet (no feather slippers!). She lays huge brown eggs.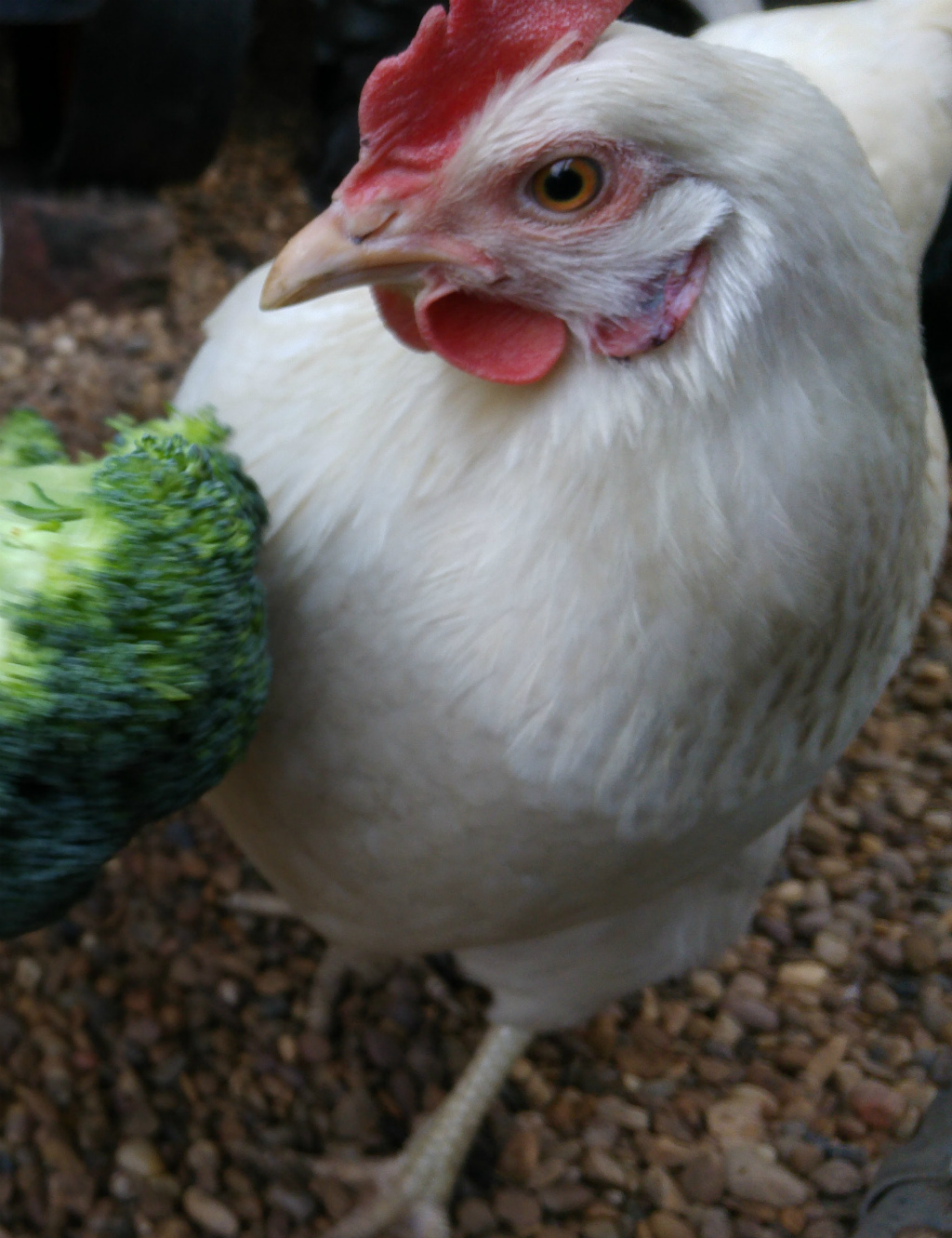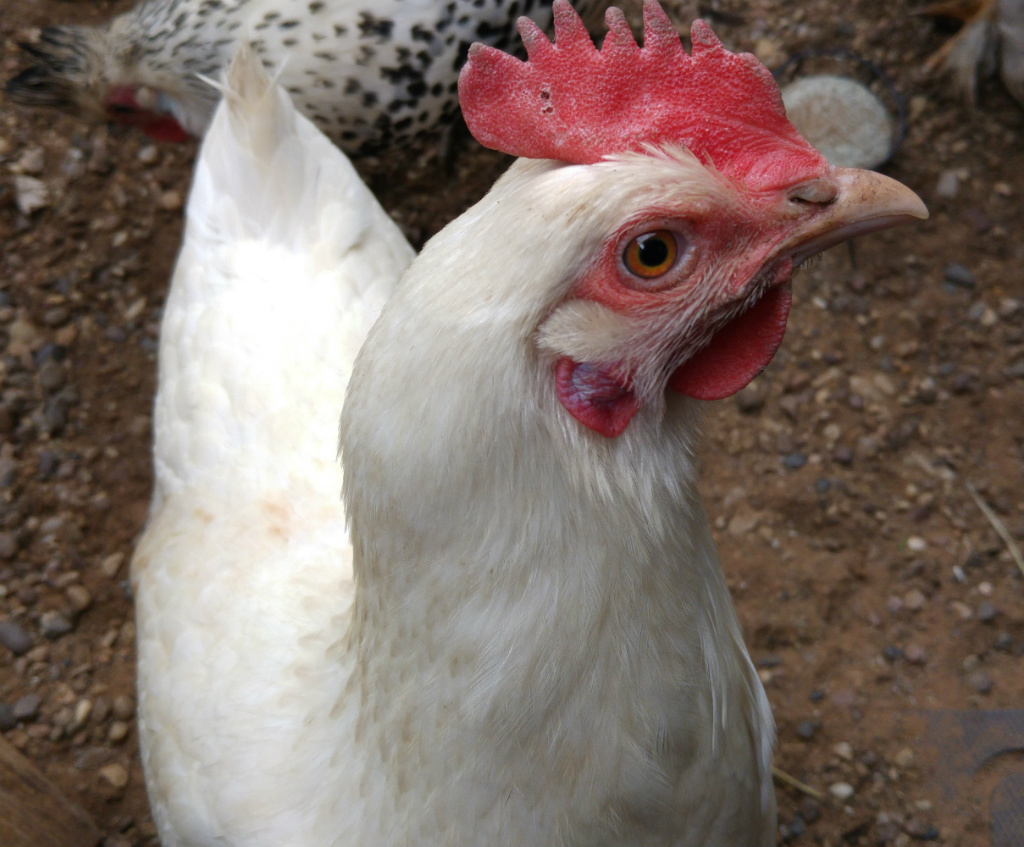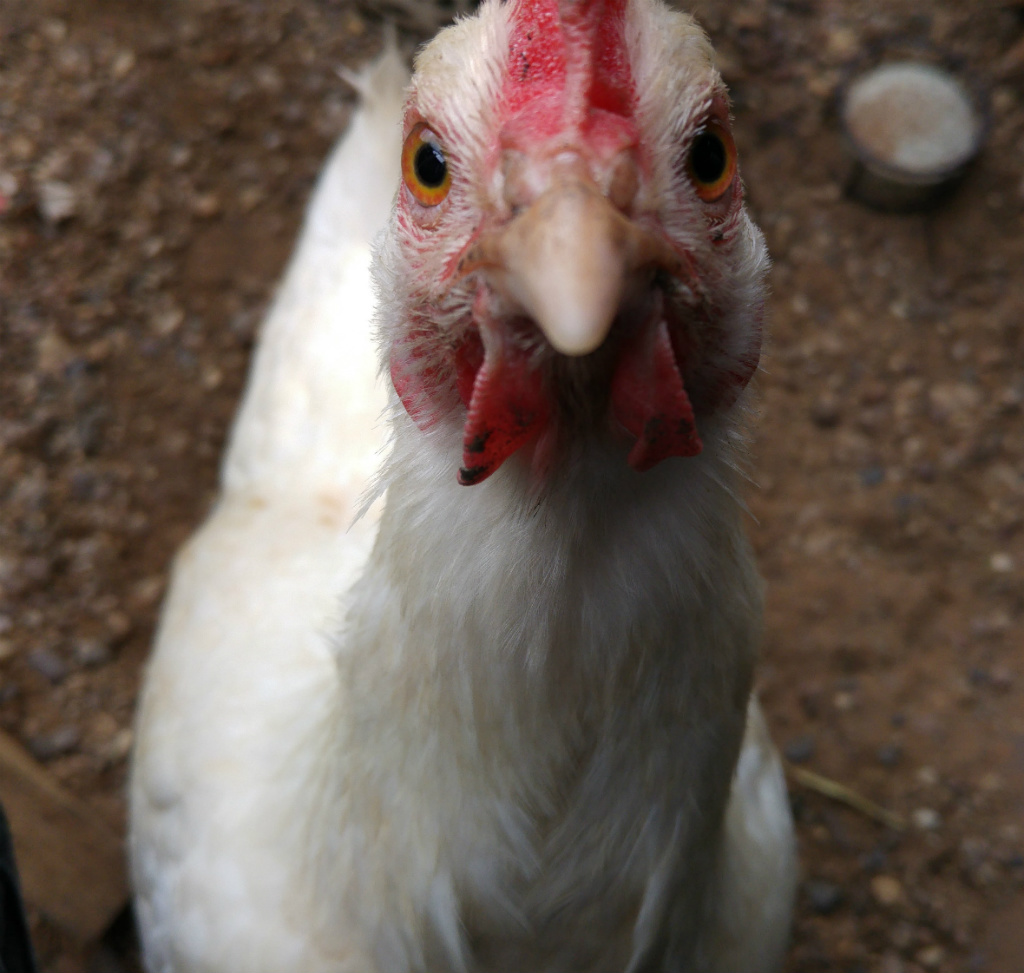 Mabel (Millefleur Pekin Bantam)
Mabel is a bantam so she's about half the size of the big girls, but bantams often have extra feistyness to make up for their diminutive stature. This sometimes means she likes to run around the coop like a maniac...

She only started laying recently so is still dropping them from the roosting perches! Another of our hens that has feathery slippers. She lays small cream-coloured eggs.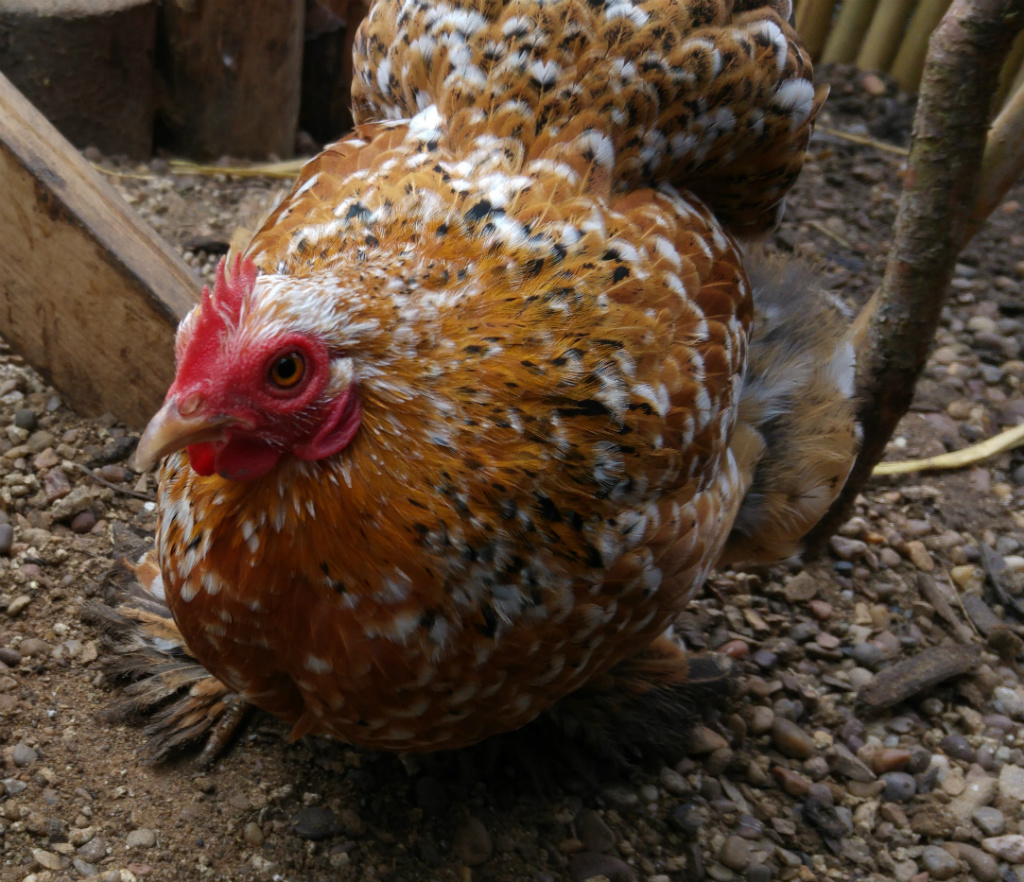 Here she is with her sister Maude (Maude on the left, Mabel on the right).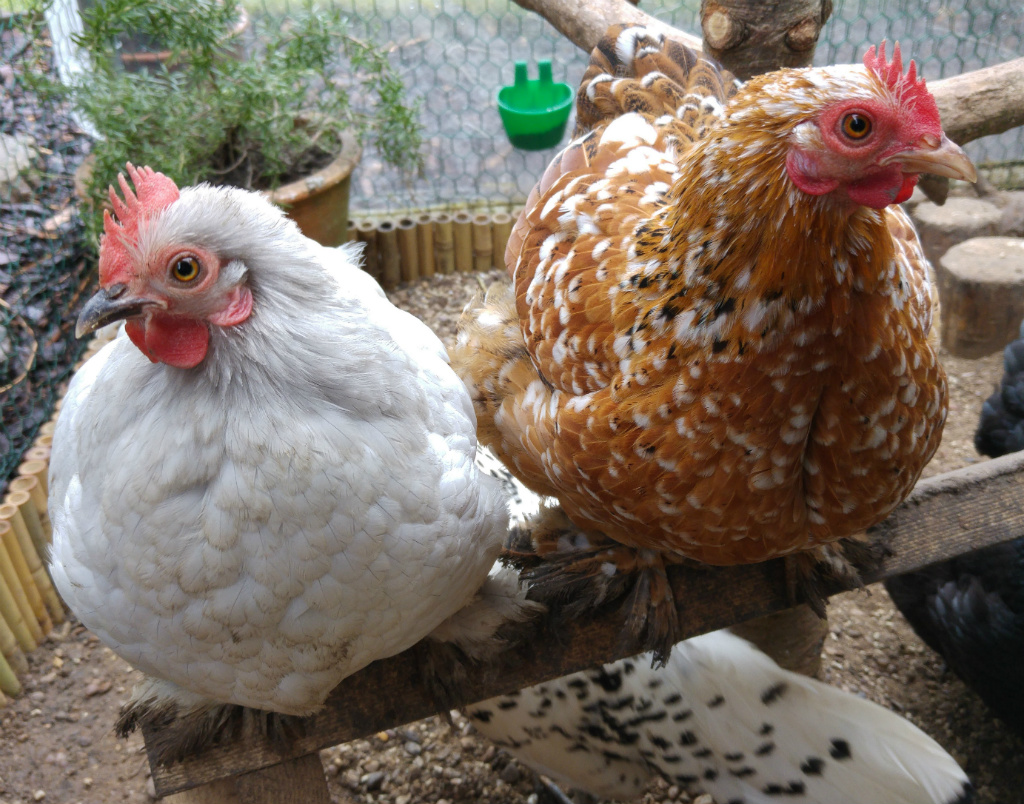 Maude (Lavendar Pekin Bantam)
Maude is a lovely lavendar colour (although she often just looks white on the camera, sorry) and is friendly and very inquisitive. Feathery slippers. She lays small cream-coloured eggs.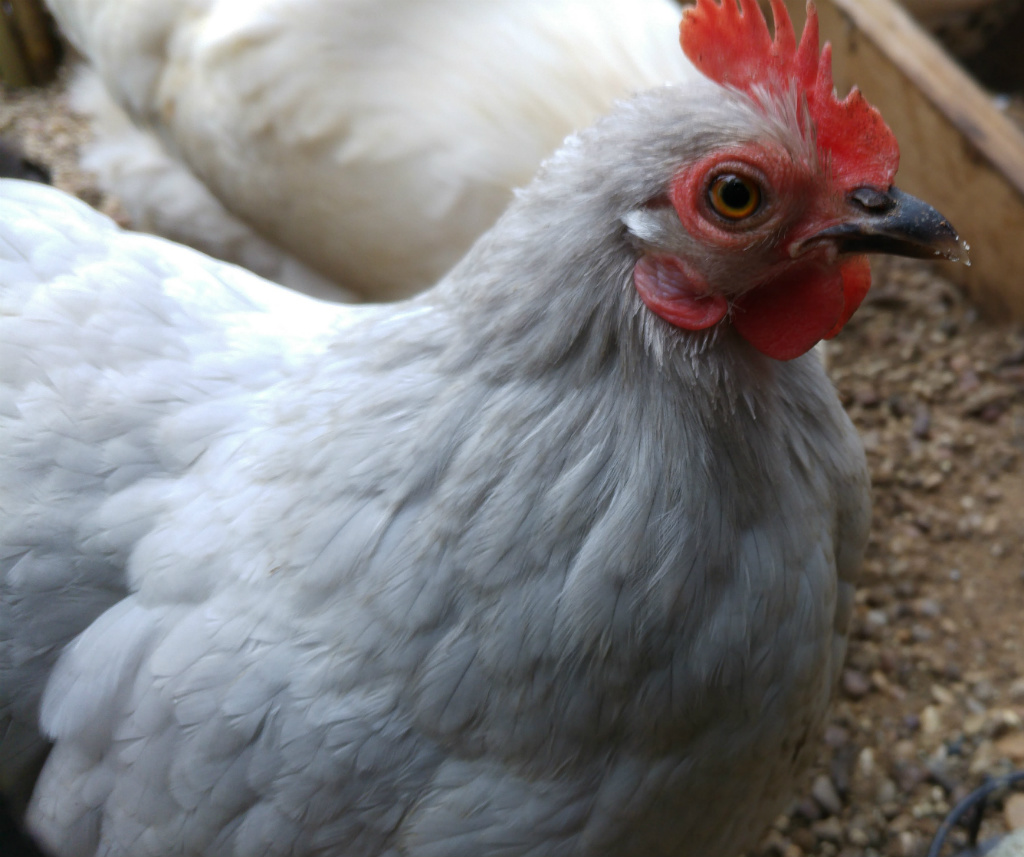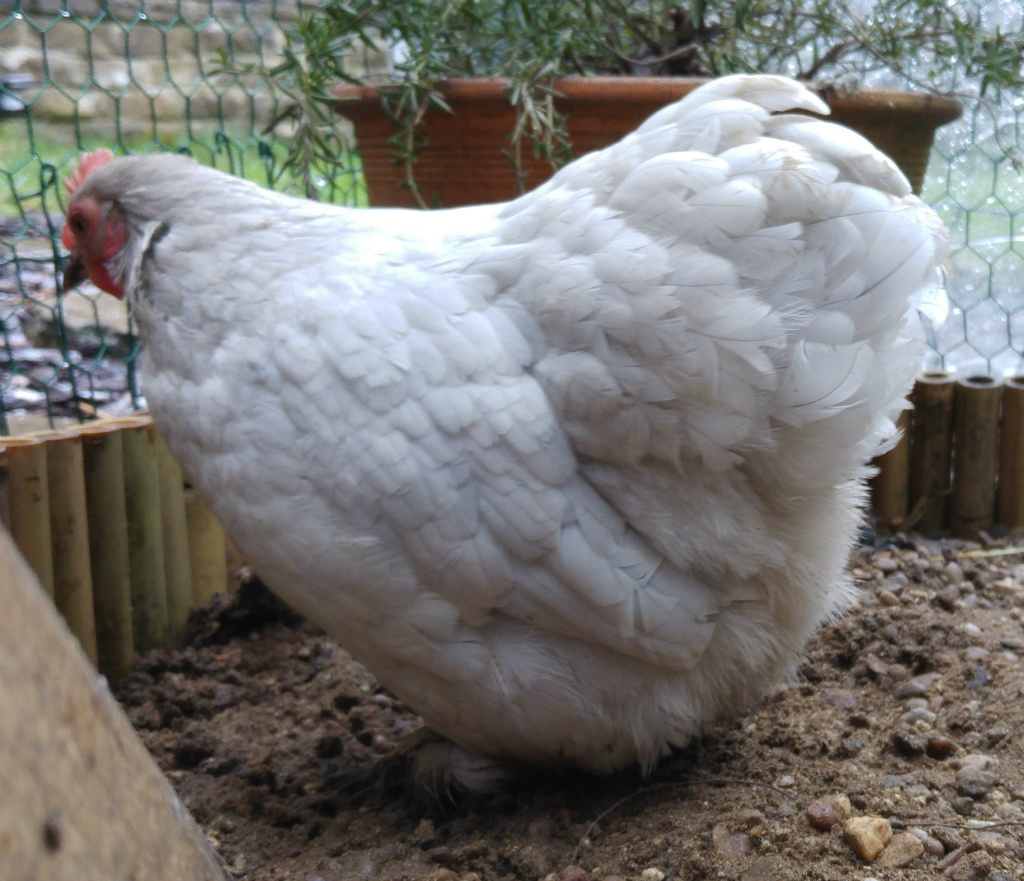 Mrs Pilkington (Pilkie - Pekin/Silkie cross)
Mrs Pilkington is great for us as I've wanted a silkie for ages but their eyesight is very poor due to their floomfy hair on their head which means they get bullied by the other hens which wouldn't be very nice.

Mrs P has a bit of a hairdo going on but she can see fine, she also has the gentleness, black skin, black flesh and black bones of a Silkie and the inquisitiveness and fun of a Pekin. Black featherless feet. She lays medium sized brown eggs.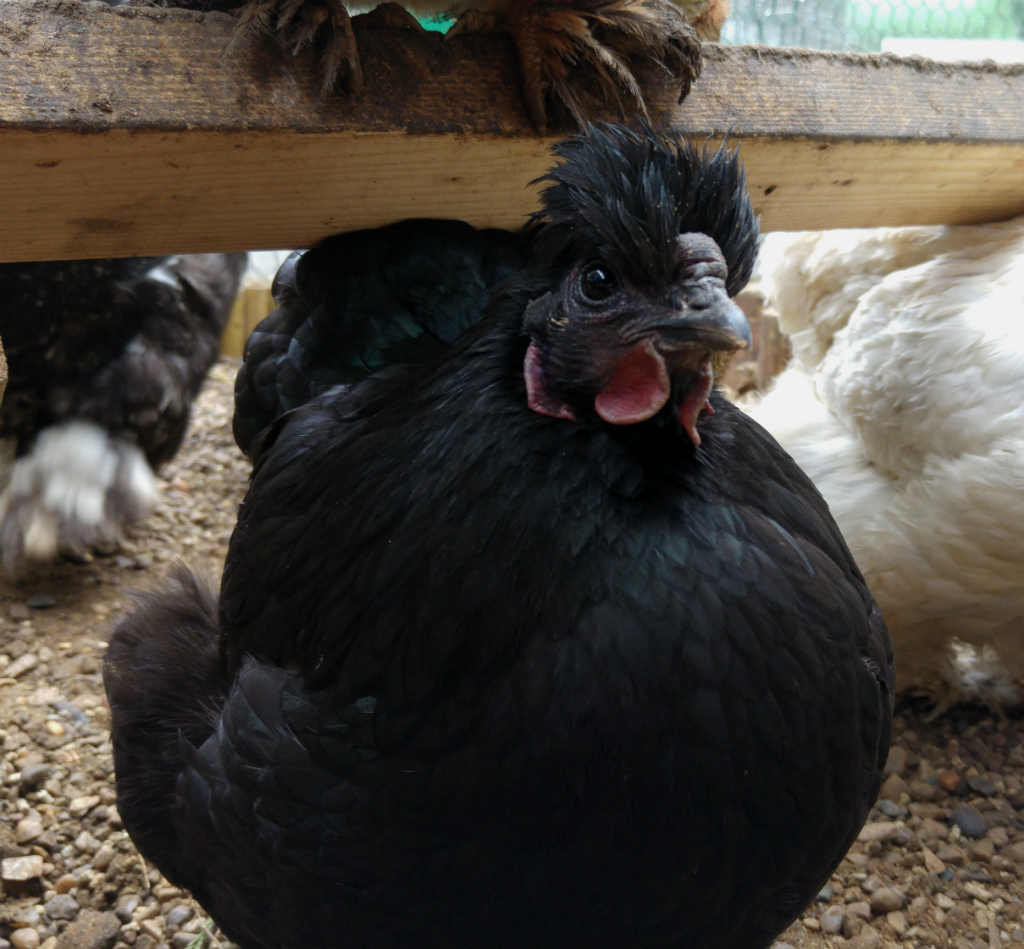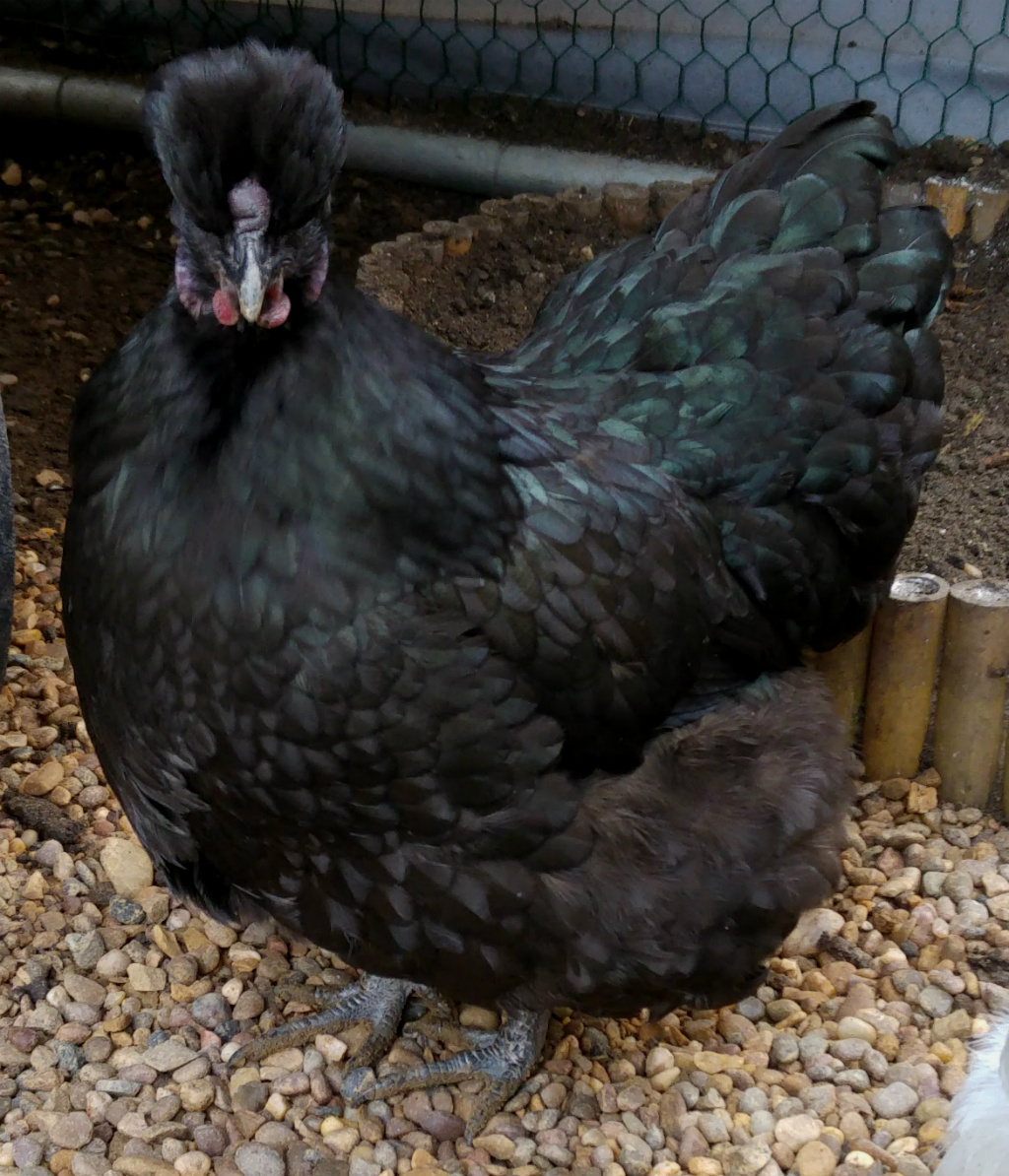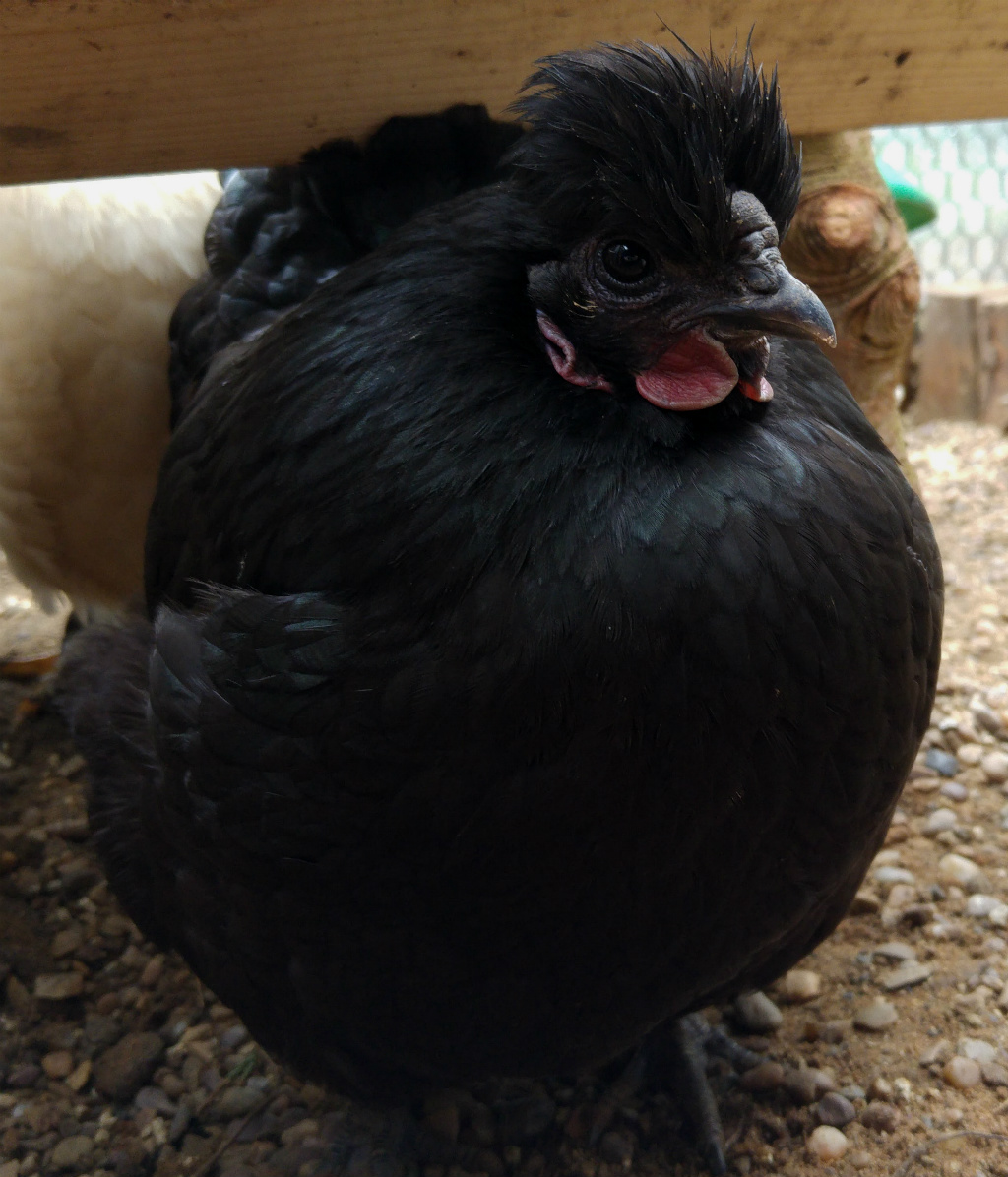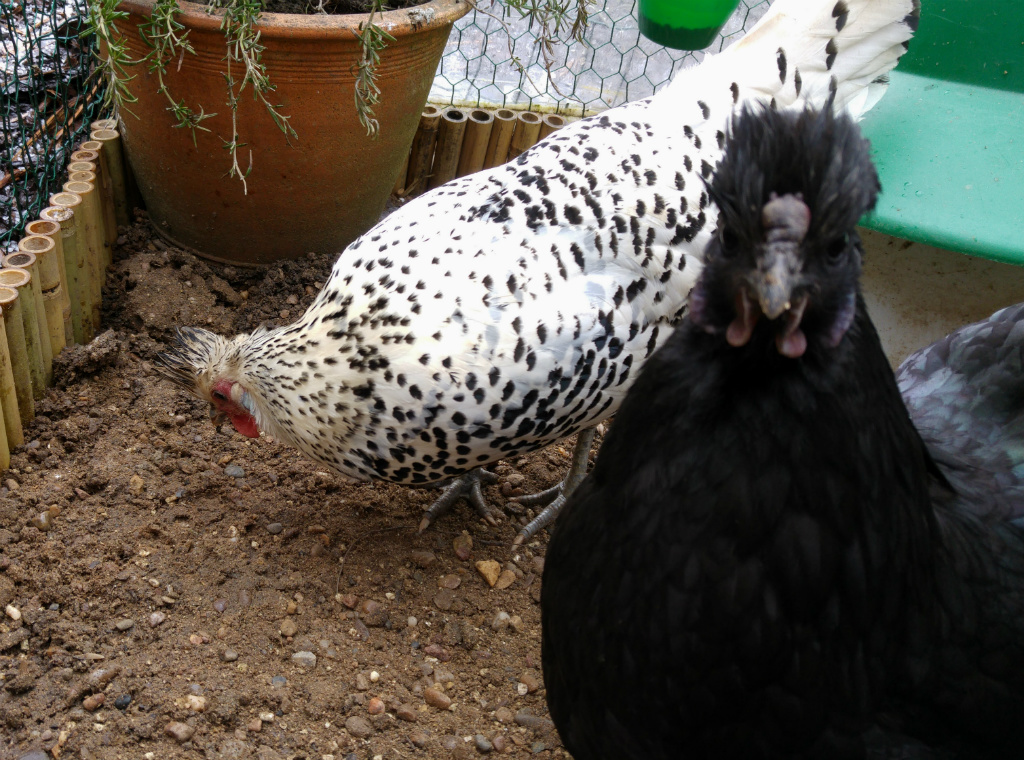 Renee (Silver Spangled Appenzeller Spitzhauben)
Renee is a flighty pure-breed with a huge Elvis-style haircut! She's built for speed and foraging, and she also rules the hencam coop with a beak of steel! She loves her sisters though.

Even though she's quite flighty she's lovely and has no problem with us handling her or petting her in exchange for mealworms.

Normal featherless feet. She lays the most fantastic porcelain white eggs.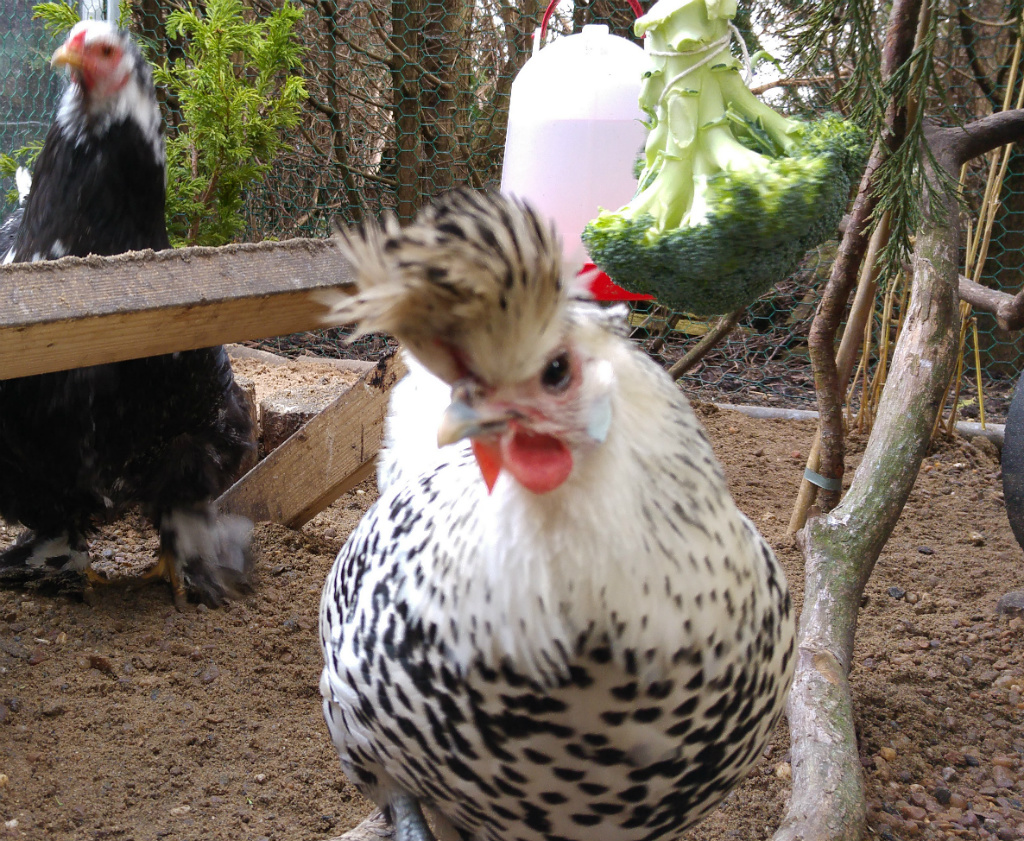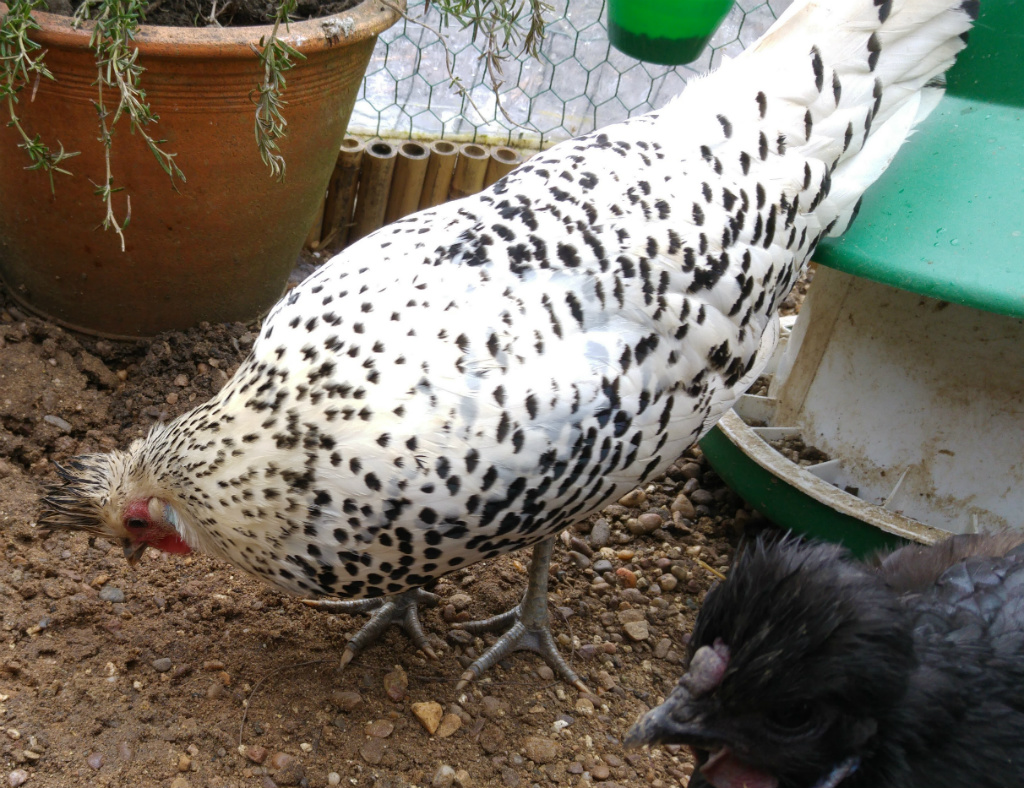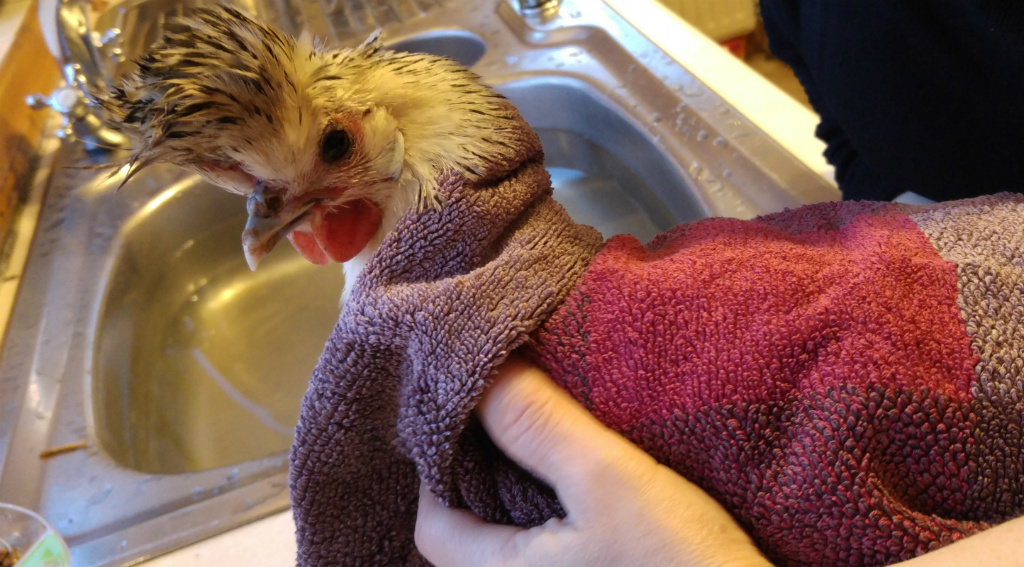 Velma (Black Speckled Brahma)
Velma is a Brahma hen so, like her sister Daphne, is laid-back and chilled out with pretty much everything. Huge feather slippers on her feet! She lays large (rather torpedo shaped) light brown eggs.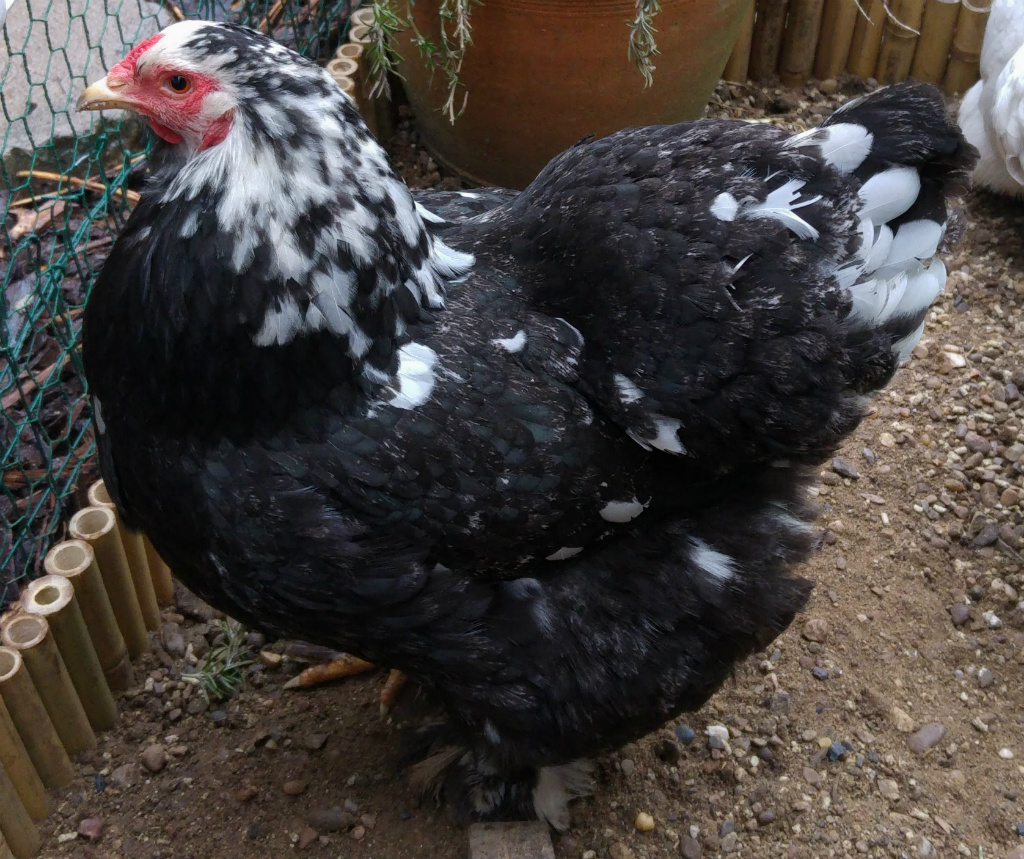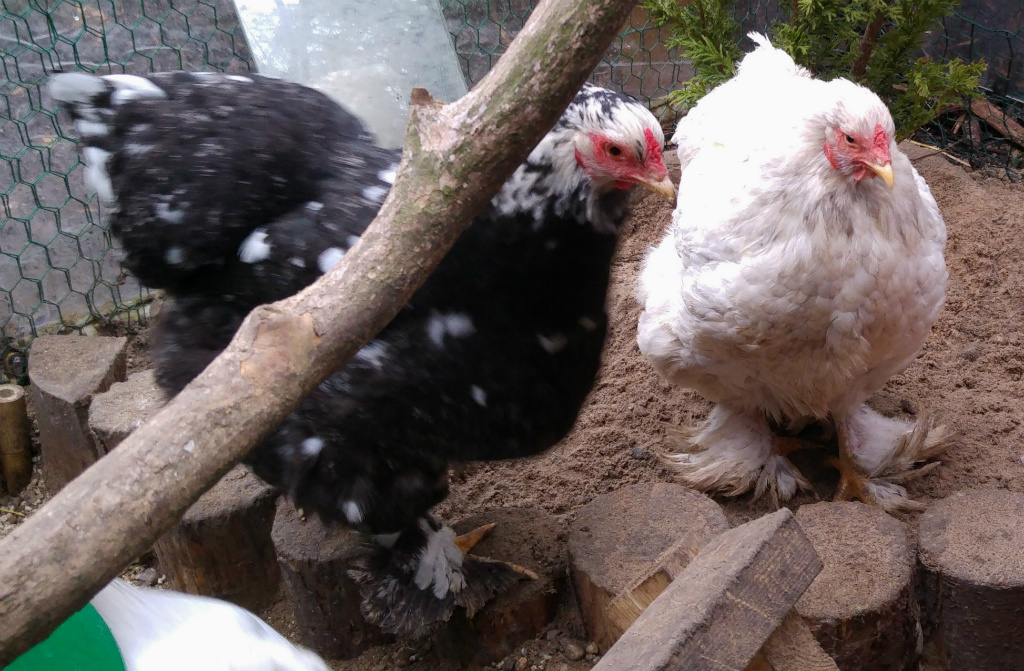 How did we end up with these breeds?
We asked Scarlet to choose the breeds for the new girls - to be honest she's researched different breeds of chickens for hours over the years so there's nobody better to ask :)

Here's what she has to say:

Choosing breeds for the new hencam flock was tricky - on the one hand my dad wanted breeds that would a) be easy to tell apart on cam, b) be generally friendly, c) be good layers and d) he wanted at least a few impressive pure-breeds.

The chickens also had to get along with each other, so no aggressive breeds, and they had to be able to live happily and adjust well to a life in a coop.

Firstly I had to find breeders in our area, and see what stock they had. From there I had to research each breed; their temperament, roaming needs, egg laying ability, appearance and general health.

Without boring everyone to tears, here are the breeds we ended up with and why :)

1) Pekins
I chose two Pekins because the breeder had a variety of beautiful colours available, and their size and personality fit well within the coop.

Mabel is a Mille Fleur Pekin, which is an absolutely beautiful pattern. Maude is a very elegant and understated lavender Pekin.

Pekins are bantams, meaning they required less room in the coop and the wagon. Originally my parents weren't too keen on owning bantams, but after some gentle persuasion they came around. I thought bantams would be something new to see on cam, and an easy way for viewers to tell the girls apart - by size and with their feathered feet!

Pekins are a fantastic breed of chicken for almost anyone - they are small with an abundance of personality, and they are known for being incredibly friendly. They don't usually require much taming, they're known to be gentle, they require little space and they're good layers. They're also supposed to be a healthy and hardy breed.

2) Brahmas
We started originally with one Brahma, an unusual looking Lemon Pyle we called Leslie.

Brahmas are a huge breed but, because of their size, they can afford to be very laid back and docile. Not only are they confident and friendly with humans, but they also tend to be very laid back with other chickens, and will let even smaller birds be above them in the pecking order. Again I thought a Brahmas large size and feathered feet would be something different and interesting to watch on cam and, although the large size would take up space, the personality was a perfect fit :)

When we first went to pick the chickens up, my parents were a bit unsure of the size or like the look of the Brahmas, but they quickly came around.

Still, they took one home with them and were ever so glad they did. Leslie's gentle nature and friendliness meant they fell in love with the breed and, when Leslie unfortunately passed away far too young, they hunted out and brought home two new rescue Brahma girls :)

3) White Star
I wanted my dad to have one hen that, because of her genetics, should be a truly fantastic layer.

Ariel was destined to be that hen - White Stars are phenomenal layers, hardy birds, generally friendly (can be flighty due to the Leghorn in them) and are pretty to look at.

At first I thought my dad was going to be disappointed with Ariel; compared to the other pure-breeds she can look a little' dull', although when you see her in person she is actually a very pretty white hen, with some beautiful patches of subtle colour. However her temperament more than makes up for any disappointment with her appearance - she is very friendly! My dad is somewhat smitten with her :)

4) Appenzellers
Of all the chickens on my list, it was the Appenzellers I was unsure about.

On the one hand they are simply incredible to look at, and they completely fulfill my dad's wish for something exciting and different on cam. They were also the only breed of hen that would lay eggs of a different colour, which is something my dad was interested in.

However some places did say they were flighty, and that they like having room to roam.

Nevertheless I delved more into the breed and questioned Appenzeller breeders, and it seemed they would be more than happy in a nice large run. It seemed they were active and intelligent; they like to fly and perch.

I chose two Appenzellers for the flock; a silver spangled and a gold spangled. These would really stand out on cam, and they really were incredible to look at!

Erika unfortunately passed away, which was a huge shock, but Renee (silver spangled) is an awesome bird and very much loved by my parents - she is even quite a friendly girl, and happily interacts with my dad, comes up for treats etc. She has somehow ended up top of the pecking order, despite the fact she is quite small in stature, and it is always a joy to watch her having fun with the puzzle feeders my parents hang in the coop!

5) Silkie x Pekin; Pilkie
My dad has always wanted a Silkie, and although their personality (friendly and exceptionally easy to tame) would fit in well, there were too many issues for him to realistically own a Silkie.

Firstly the crest of a Silkie makes it quite hard for them to see, and this means they are an easy target for bullying. Their feathers aren't waterproof, they tend to be poor layers, and they also seem to die younger than other breeds, which is incredibly sad.

When my dad was looking for new girls to add to the flock, he found some Pilkies for sale - Silkie x Pekins and asked me if they would be ok with the girls, I checked and was able to give him the verdict: awesome!

These birds had the feathering of 'normal' chickens (meaning rain wasn't an issue), and the black birds had the appearance of a Silkie without the annoying crest! There were two Pilkies to choose from as one of the black hens had recently hatched chicks; one was a white hen that looked much more like a standard Pekin, and the other was Mrs P! She has the black feathers, skin, bones and general appearance of a Silkie.

Mrs P seems to be a good layer and is very much able to stand up for herself; she fits in well with the flock, and is a little larger than the Pekins.

And that's how the hencam girls came to be chosen!

They seem to get on incredibly well with each other, and they also look fantastic on cam - the differing colours and sizes look great! The girls are friendly towards my parents and they are getting a good number of eggs a day :)
The coop and run
We wanted more chickens and for them to have space to forage, run, dust-bathe and do all the things that chickens like to do. We also needed something secure and protected because we have seen foxes several times (and also lost chickens to them in the past).

Because several of the hens have feathered feet, we also needed the ground to be dry and mud-free (it can collect in the feathers and cause problems), so it was quite a conundrum...

We settled on a large enclosed run, which although not "true" free-ranging it would provide enough room for the hens to be able to enjoy life and to get out of each other's way if the need arose. We also decided to give the hens several levels of roosting and areas for dust-bathing, digging etc.

For the house, we decided on a Green Frog Chicken Wagon. It is expensive, but also very well designed and we particularly liked how the images on their website showed grown hens (and even Brahmas!) in the housing to give you a true idea of size. They also quoted recognised and humane space requirements for chickens - please take note Omlet!!!

Here's a few pics: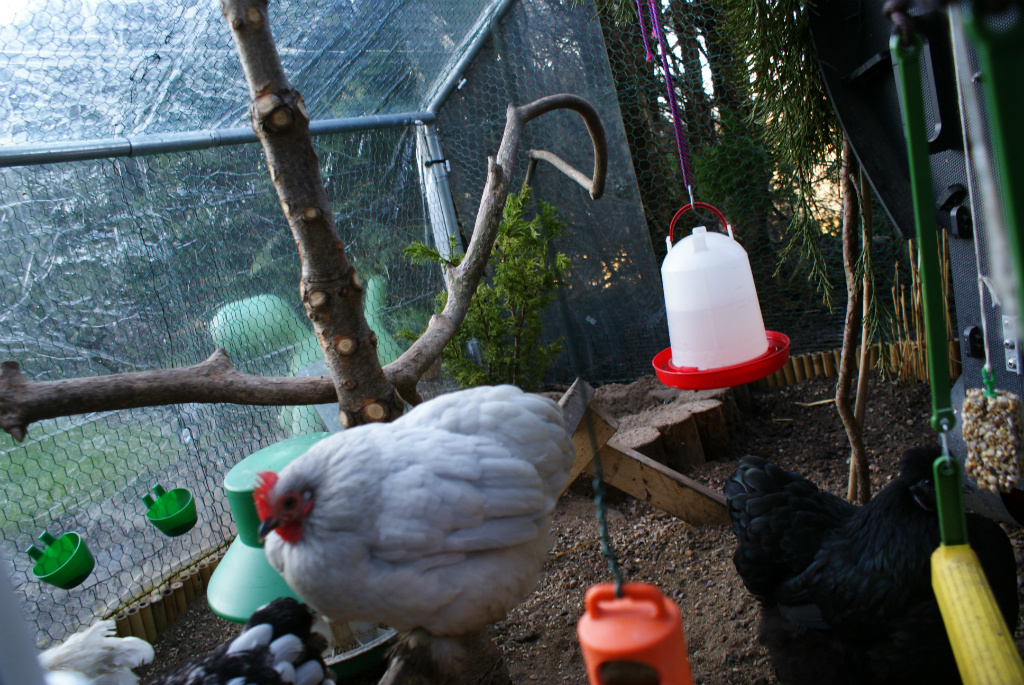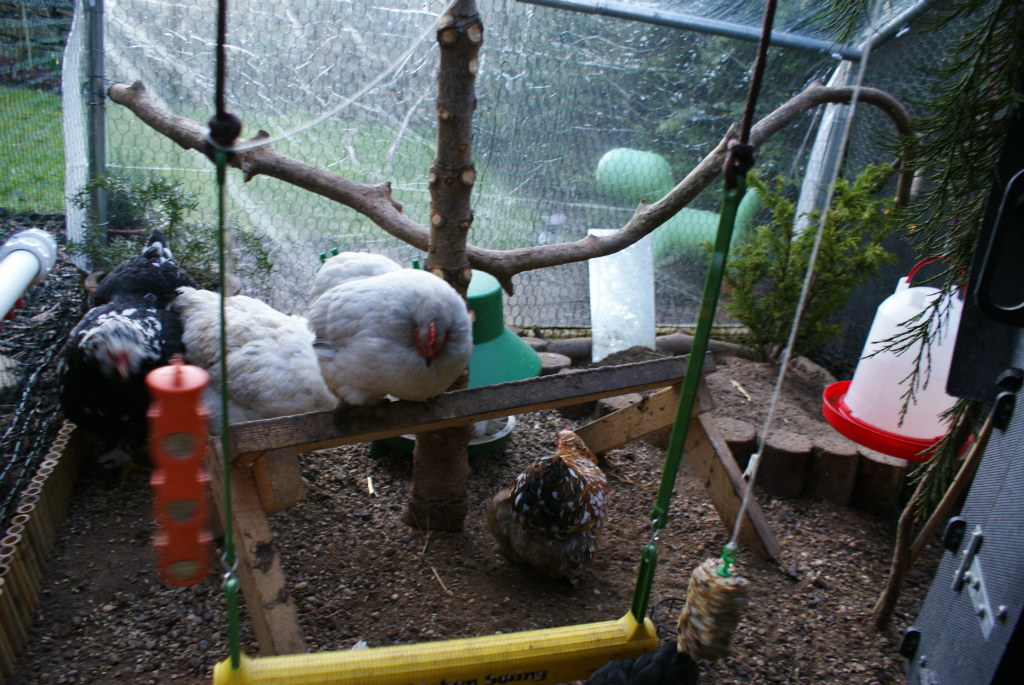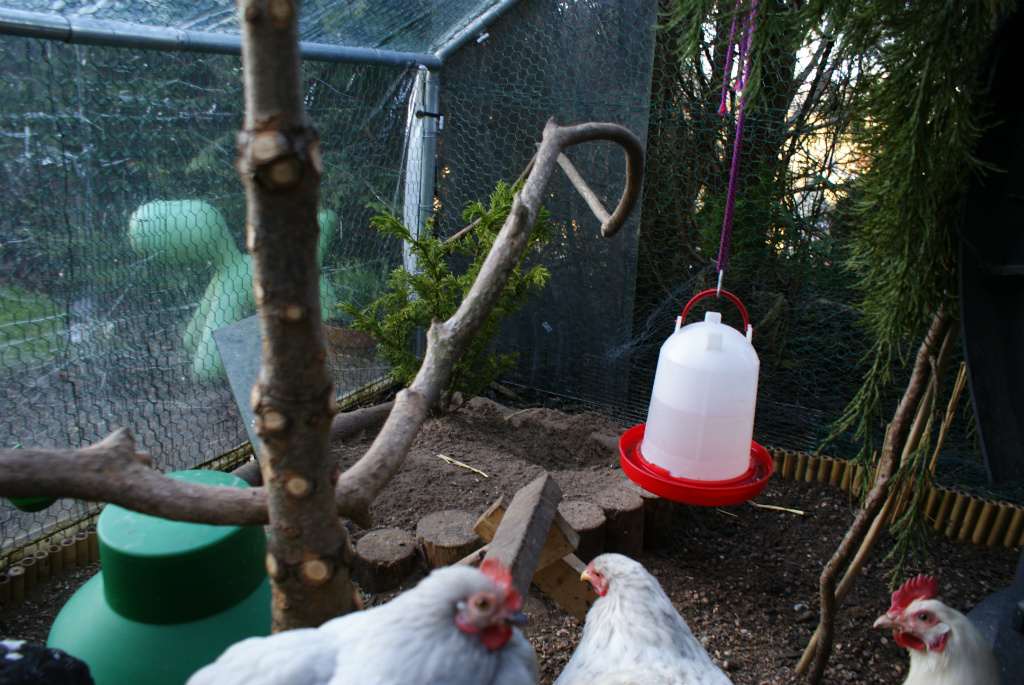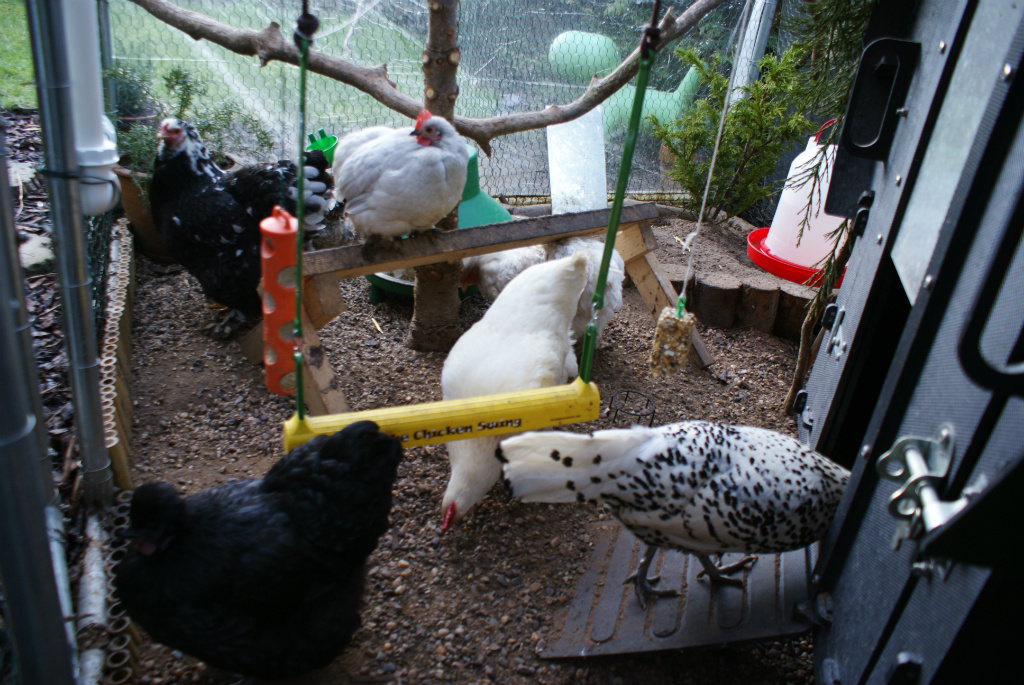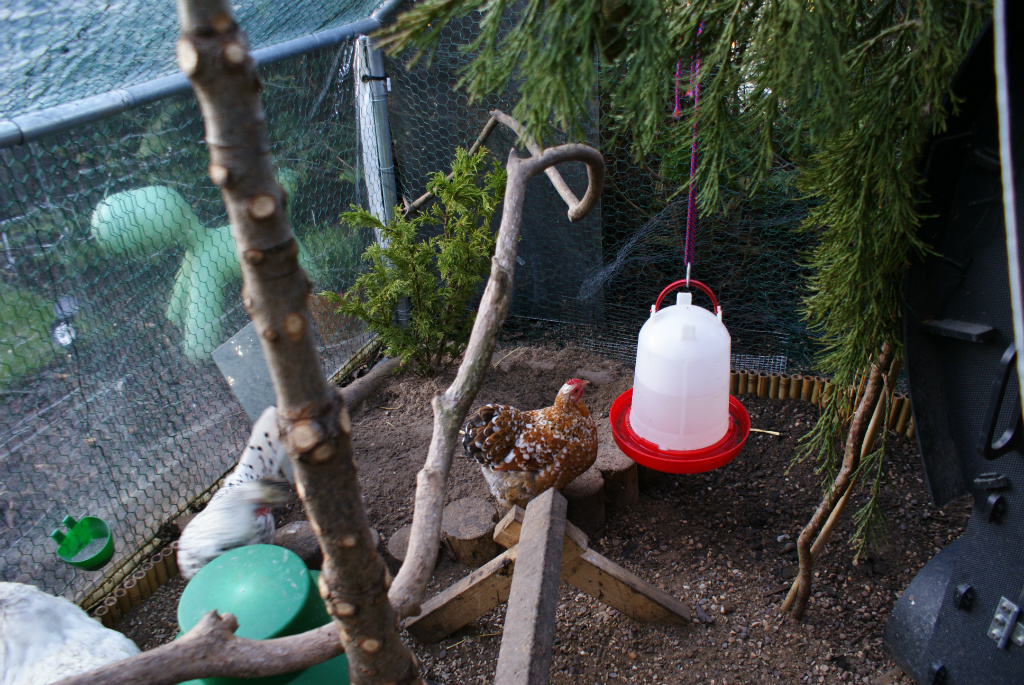 And a screenshot from the hencam showing how much they love their perches...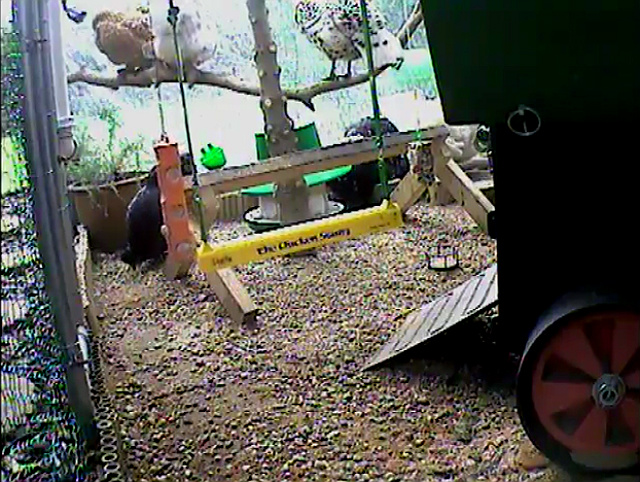 Not forgotten...
It's always sad when you lose a pet, Leslie, Erika and Daphne were taken from us far too soon...
Leslie, our gentle giant.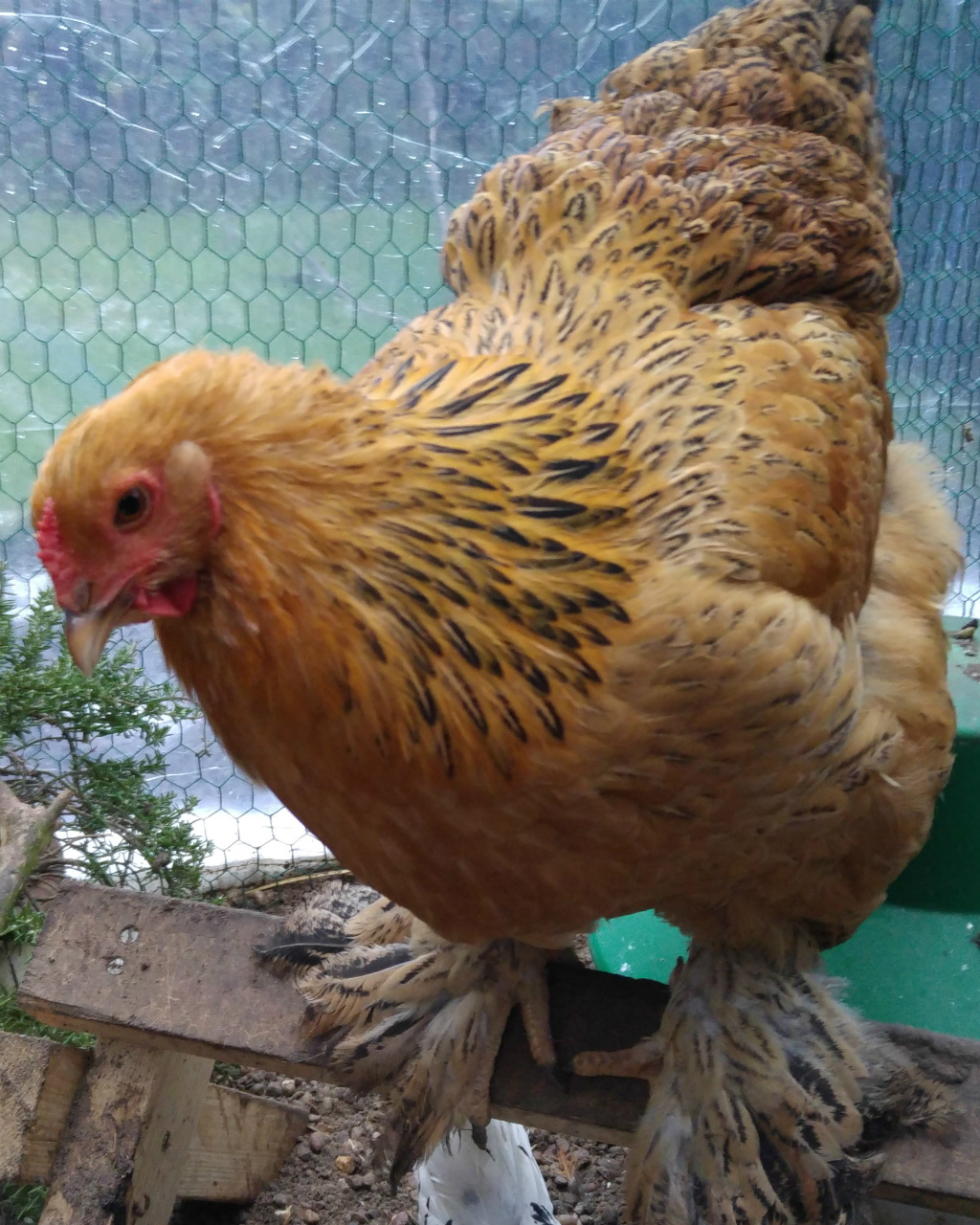 Erika, a true chicken (scared of everyone and everything).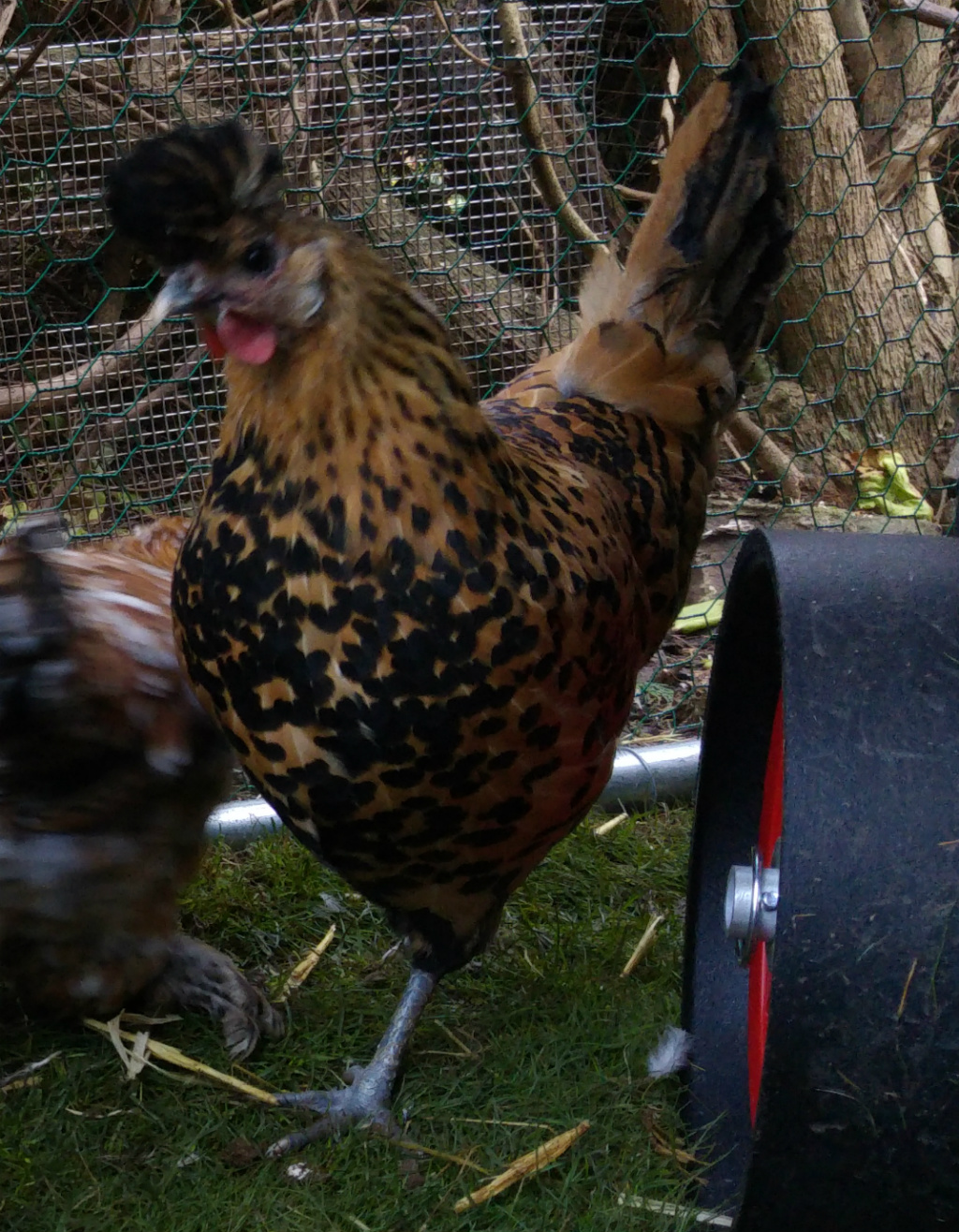 Daphne, out gorgeous and sweet Light Brahma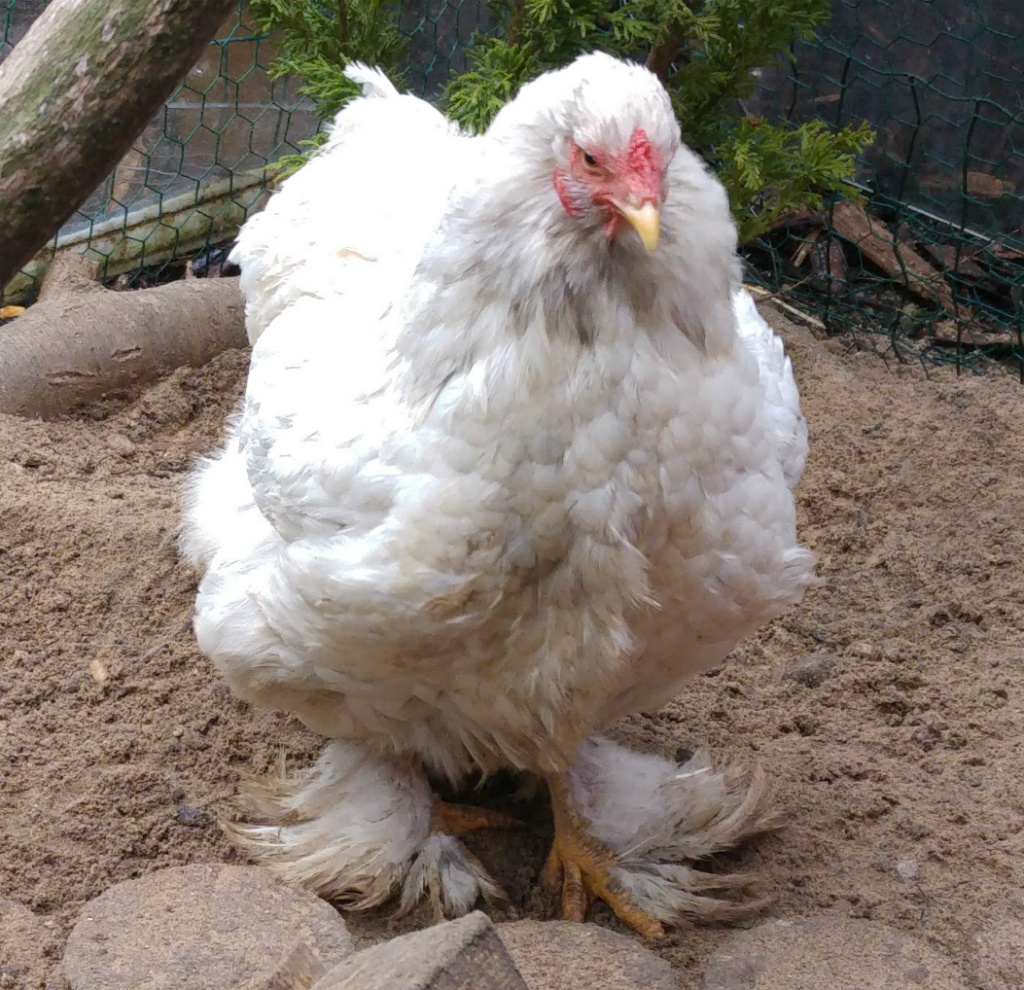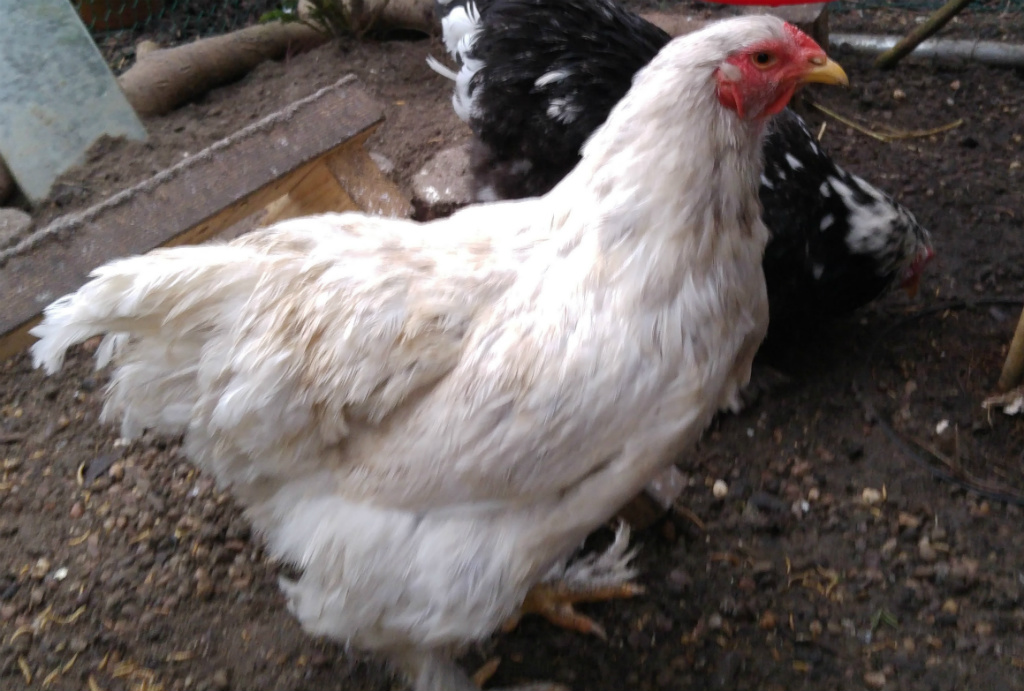 I hope this gives you a bit of insight on the girls and their surroundings (and owners!)